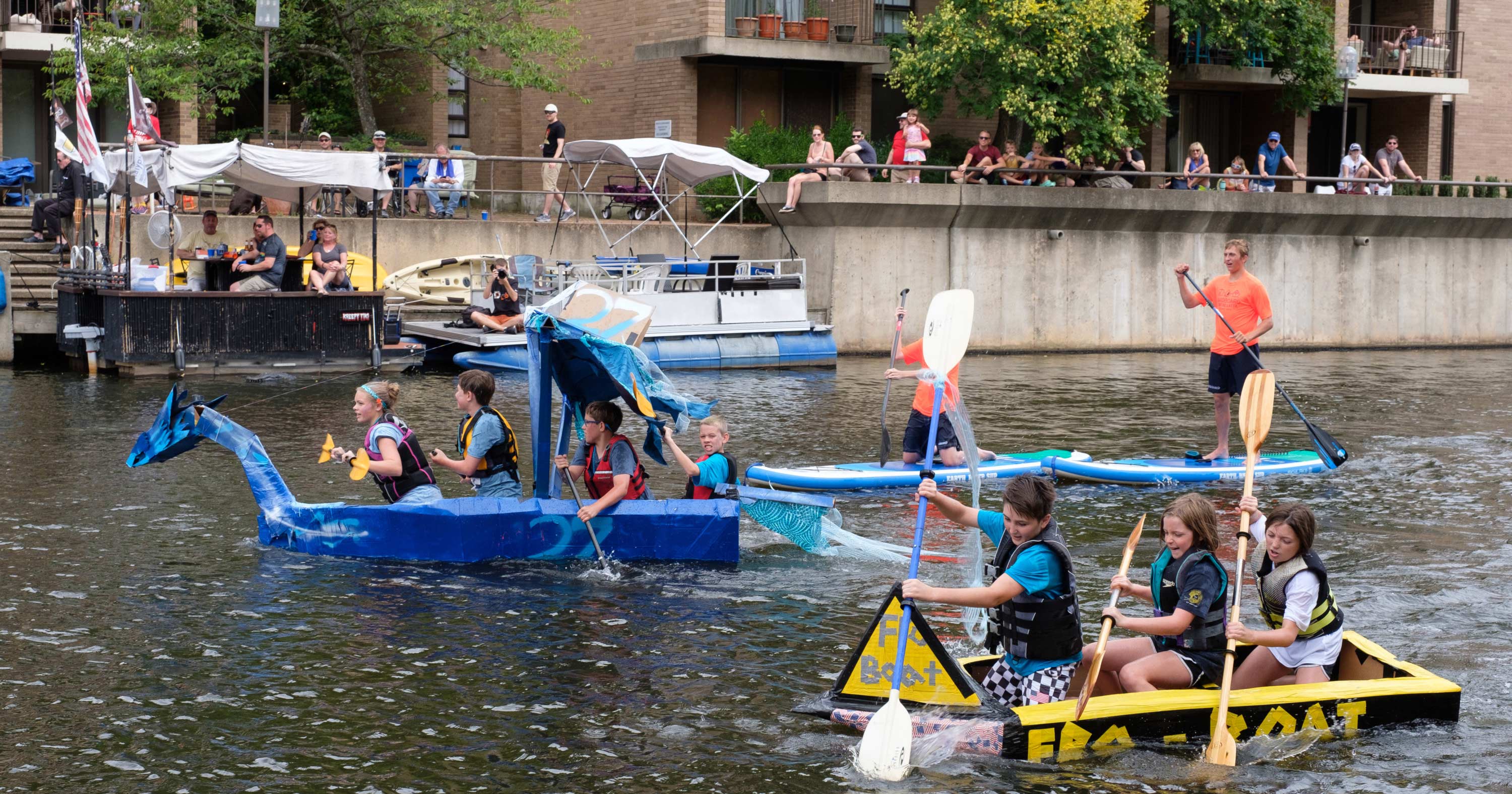 Things to do in DC: dance parties, workshops, movies
Participants take part in the 2019 Lake Anne Cardboard Boat Regatta. Photograph by Charlotte Geary.
Go for gold. Be creative and take the plunge at the annual Lake Anne Cardboard Regatta (Saturday, free, Reston). If you're looking for a drier run for a cause, try the Run for the right to abortion (Monday, free, Cardozo).
Dance it. Celebrate the one-year anniversary of the Smithsonian Anthology of Hip-Hop and Rap with performances, activities and presentations at Hip-hop neighborhood party (Saturday, free but registration required, the National Mall); show off your skills at a salsa lessons (Friday, free, The Wharf); or hit the dance floor while enjoying food trucks and mocktails at Yacht Rock Dance Party (Sea, free, National Landing).
Fun and food. Enjoy plenty of sausages and beers from local breweries at the Sausage Party at Wunder Garden (Sat & Sun, free, NOMA), or if you prefer to compete for your food, you can go to the DC Food Challenge and race (Saturday, $30, Roslyn). Watch your favorite soccer team on a 14-foot jumbotron at DC United Watch Party (Saturday, free, The Wharf) or hit your favorite bars on this 90s DC Crawl (Saturday, $20+, various locations).
Learn something new. Head to the Virtual Masterclass: Designing and Coding Games with Scratch (Monday, free, virtual) to learn how to create the video game of your dreams. If you love art, you can make a masterpiece at Watercolor Workshop: Colors of Collioure (Tuesday, $95+, virtual). Or do the same with a glass to that Wine & Watercolors Course (Friday, $20, Georgetown) Where the Clay and Cocktail Classes (Saturday, $75, Georgetown). Other fun courses include Design Spotlight: Folger Shakespeare Library Renovation (Monday, $10+, National Mall) for those interested in architecture; this herbal workshop (Monday, $0+, current plains) who teaches you how to source herbs sustainably; or the BBQ boot camp (Sun, $100, Capitol Hill) where you can learn the right way to cook brisket.
Fun exhibits.

A look back at the historic mission of the new

Apollo 11 exhibition

(daily, free, Tenleytown).

You can also take a tour through all 50 states at

people from afar

(opens Sunday, free, Georgetown)

or listen to a wrought iron expert at this

Visit of the ironwork of the cathedral

(Monday, $25+, Cathedral Heights).
Children's corner. Take your kids for a fun day at the Museum of NMNH Reading Date: Insect Survey (Tuesday, free, National Mall) Where Experience Summer Museum Day at the Phillips Collection (Saturday, free but registration required, Cercle Dupont). The whole family can enjoy live entertainment at End of year celebrations with family (Sun, $5, park view), Story Time with the DC Public Library (Tuesday, free, Union market), or the The Uncle Devin Show (Tuesday, free, Bellevue). To prepare them for the start of the school year, go to Back-to-school vaccination clinic (Tuesday and Wednesday, free, park view) for Covid-19 vaccines and free ice cream cones.
For parents of puppies.

Pets also deserve to have fun. You can bring your four-legged friend for a dip in the pool at

Summer Splash Party

(Friday, $15, park view),

take them for

pet-friendly snacks

barking hour

(Sun, free, NOMA),

or let them make new friends at

College Mixers Night at Bark Social

(Fridays, free, Bethesda).

Create a piece of art to hang in your home at

Comb your pet and sip

(Saturday, $45, Alexandria).
Shopping day. Browse a variety of local vendors at Alexandria Summer Sidewalk Sale (Saturday, free, Alexandria). Attend a piercing party and "ear saving experience" at The summer of the stallions of SHELTER (Saturday, free, Union Market).
See a show. You don't have to have a straight face when you can see some of your favorite songs performed live with Lady Gaga at Nationals Stadium (Monday, $72+, Capitol Riverfront). If you prefer to be on stage rather than in the audience, you can play College Night Open Mic (Friday, $7.36, University Heights) or the Poetic slam of the 9th hour (Friday, $7.36, Cardozo). Enjoy more live music on Legendary Nights XV (Sun, $48+, National Harbor) Where Betty Carter Jazz Ahead Showcase (Thursday and Friday, free, Foggy Bottom).
Laugh. Enjoy an impressive selection of comedians at Summer heat comedy (Thursday, $10, NOMA) or save some cash and head to comedy calls (Friday, free, Petworth).
Find your Zen. Celebrate wellness and self-care with fitness classes, free school supplies, food and music at wave party (Sat, free, downtown). You can also relax with Sundeck Salutation Series Yoga (Tuesday, Free, National Yards), Yoga at the dock (Tuesday & Sun, free), Pints ​​and Poses (Wed, $20, Langdon), or one virtual guided meditation (Sea, free, virtual).
Break a sweat.

Go out with a

hike

on the C&O channel

(Wednesday, $50+, Potomac),

a

full moon kayak tour

(Monday, $95+, Arlington),

Choc City Cornhole

(sea, free, park view),

Let's skate DC

(Sat & Sun, $0+, The Wharf), one

Neighborhood walking tour

(Thursday, $0+, Capitol Riverfront),

or a game of

table tennis

(Tuesday, free but registration required, Tysons).
Free movies. This week's screenings include Teenage Mutant Ninja Turtles (Fri, free but registration required, National Landing); Nanny McPhee (Sun, free, National Port); Sing in the rain (Game, Free, National Port); Spiderman: No Coming Home (Game, Free, The Wharf); Boss Baby (Wednesday, free, Rockville); Minari (Sat, free, Arlington); dirty dance (Friday, free, Union market); and Encanto In both cases georgetown (Tuesday, free), the Mosaic District (Thursday, free), Where Arlington (Fri, free).