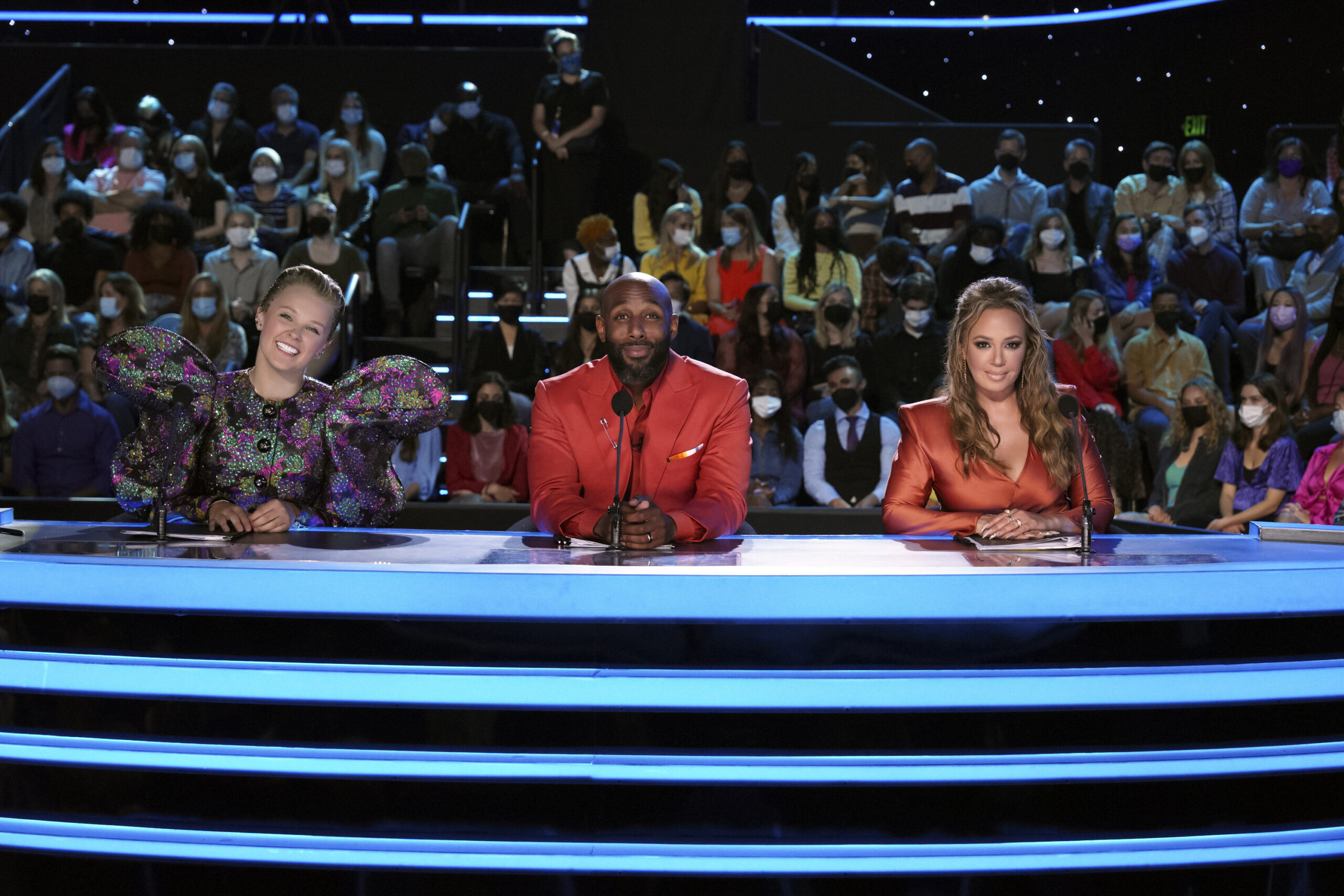 So You Think You Can Dance 2022 Recap: The All-Stars Return!
After sending last week's Turn Back Time episode Waverly and Anna packaging, we are in the Top 6 – Keaton, Essence, Alexis, Carter, Ralyn and Beau – which will perform tonight paired with a SYTYCD All-Star!
The returning All-Stars are: Comfort Fedoke, Koine Iwasaki, Bailey Munoz, Amy Yakima, Ezra Sosa and Lex Ishimoto!
The episode opens with a group performance featuring the Top 6 and the All-Stars!
Cat Deeley says each of the Top 6 will dance with an All-Star in All-Star favorite style, and for the first time ever, three dancers will be in danger.
Carter and Bailey Munoz – Hip-Hop
Bailey says Carter needs to skip his ballroom ways to get into hip-hop, and Carter says he and Bailey need to tap into their characters.
Wow, awesome makeup on those zombies! My Halloween-obsessed self loves the spooky theme! I must say that Carter impressed me. He looked very out of place in the rehearsal package, but came out and turned out to be an excellent Hip Hop dancer!
tWitch says Carter has so much power. Leah says she was entertained by both. JoJo says it was her favorite Hip Hop number from SYTYCD.
Alexis and Amy Yakima – Jazz
They're called a power couple by the choreographer in the package, and Alexis says she wants to show she can be strong and wonders how she can maintain the momentum she's built.
In my professional opinion, I always say jazz is hard to mess up, but this routine was next level and Alexis nailed every step.
JoJo says the performance was unreal and performing together is a choreographer's dream, and when she goes dancing in her studio she thinks, "Do it like Alexis does." tWitch says it was like watching two winners dance. Leah says you don't need to be confident, you just need to pretend, and Alexis didn't let fear overcome her.
Keaton and Ezra Sosa – Jive
Keaton says he has to prove to everyone that he's meant to be here after seeing so many talented dancers return home. Keaton says it's a tough routine for him.
It was a very unique version of a Jive, making it two best friends fighting over the same girl while they danced. Keaton can really master any dance style thrown at him, and that's what makes a winner in my book.
Leah reminds Keaton to stay in character. JoJo says Keaton has reached Ezra's level. tWitch says he loves that Keaton consistently brings his work ethic.
Essence and Koine Iwasaki – Contemporary
Essence says she channels her real-life experiences for this piece about depression.
I think it was a big effort from Essence, but it lacked the fluidity that is required in Contemporary. It sounded like a Hip Hop dancer trying out contemporary, which is exactly what it was. It wasn't bad at all, it was just a bit dull for me.
tWitch says he is so proud and says the performance has shown growth. Leah says she connected with character and emotion. JoJo says the technique was great and the performance value was great.
Beau and Lex Ishimoto – Contemporary
The play is said to be about addiction, and Beau says that while it can't relate to the addiction aspect, it can relate to mental health issues and feelings of wanting to give up.
The arm wrestling game was creative. I think, unfortunately, Lex overpowered Beau. Beau continued, but he felt a little out of his comfort zone and maybe Beau was trying too hard.
JoJo says Beau is able to take a story and sprint with it, and the number will be very meaningful to people. tWitch says Beau is there for a reason and needs to use the power to tap into the story every time he takes the stage. Leah says she was close to tears.
*Is it just me or am I incredibly critical of everyone tonight? lol As a professional dancer I can't help but nitpick when I see talented dancers who don't live up to their potential haha
Ralyn and Comfort Fedoke – Hip Hop
Ralyn says the hardest part is switching partners every week. She then compares Hip Hop to a grunt LOL (she's not wrong)
They really didn't need outrageous costumes, Ralyn did surprisingly well at Hip Hop! I was impressed with his ability to master it.
Leah says she loved it throughout. JoJo says this dance didn't have multiple flavors, but she liked the flavor it had. tWitch says it wasn't flavors, it was an entire store.
Dancers in danger are… Ralyn, handsome and Alexis.
The returning candidate is… NOBODY! THERE IS NO ELIMINATION.
tWitch says the three judges wanted to save a different dancer, so because of that, no one is going home.
As expected! After seeing these final three, it will be interesting to see who returns home in the future. Beau is good, and the audience aside, there's something he doesn't connect to in terms of dancing in certain styles. However, I was not surprised by Ralyn and Alexis. See you next Wednesday for another dance party!